Bursaries
The VYSO is committed to the support of musicians that, through financial hardship or special circumstances, may not otherwise be able to participate in the program without assistance.   Based on an application process, bursaries are awarded annually to musicians who demonstrate a need for financial assistance. Bursary applications and guidelines are available by contacting the VYSO office at 604 737 0714 or vyso2@telus.net. Some bursaries are awarded in name and honour of former conductor Margitta Krebs, who guided and supported hundreds of young musicians over a very long tenure with the VYSO.
CHARLOTTE EPP DISTINGUISHED SERVICE AWARD
The Charlotte Epp Distinguished Service Award was established in 1999, in honour of the long and committed service of former VYSO Manager, Charlotte Epp. It is an honourary award presented annually, to an individual that has shown extraordinary commitment as a volunteer to the organization.
Amy Dundas Head Memorial Award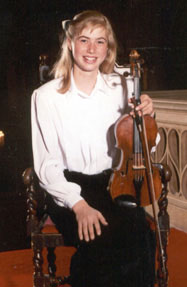 This award is given to a deserving graduating VYSO Senior Orchestra string player in memory of Amy Dundas Head, a VYSO alumna. The award is presented at the last Senior Orchestra concert of the season, and is based on all-around merit. The recipient may use the award as s/he chooses.
Upon entering the Suzuki violin program at the Vancouver Community Music School, Ms. Dundas Head showed early talent and a readiness to take the stage. Before entering the UBC Violin Program she enjoyed solo recitals, competed in festivals, and played in the Vancouver Academy Strings, the Summer Pops Youth Orchestra, the UBC Orchestra, and the VYSO. She won the Senior Orchestra Concerto Competition and performed the Bruch G minor Concerto at the QE Playhouse on her 17th birthday.
In 2005 a family member established this memorial fund in memory of Ms. Dundas Head. Her talent, honesty, determination, cheerful disposition, infectious enthusiasm and readiness to help others enriched many lives. Her life was an inspiration to many.
Lightburn/van den Bos Scholarship
This Scholarship is for VYSO Senior Orchestra musicians who are graduating from secondary school to pursue full time music studies at a university or independent school of music. Candidates must have a public high school education.
Candidates are those who have shown, throughout the season
a high degree of dedication to his/her study of music,
an excellent attendance record,
a positive attitude,
a readiness to volunteer.
The committee will make a decision each year towards the end of the season. The successful candidate will be announced at the final concert.
The scholarship funds will be paid directly to the university account of the winning student upon the successful completion of his/her first year, to be applied to the tuition fees of the second year. If the student does not continue his/her studies the award will be forfeited.